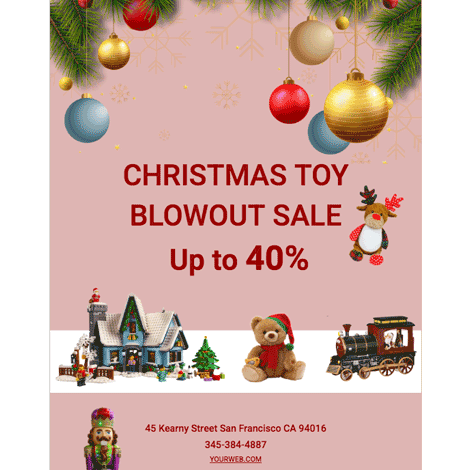 Introducing our Google Doc template for a Christmas Toy Sale flyer!

This easy-to-use template is perfect for creating a festive and eye-catching flyer for your upcoming holiday toy sale. With a colorful and playful design, it will help you grab the attention of potential customers and promote your products in a professional way.

The template features fully customizable text and images, allowing you to showcase your best toy deals and promotions. You can easily change the colors and fonts to match your brand and add your own logo or graphics to make the flyer truly unique.

Whether you're a small toy store or a large retailer, this template will help you save time and effort in creating a professional-looking flyer. With just a few clicks, you'll have a high-quality marketing material that's sure to attract customers and boost sales during the holiday season. Get started today and spread the joy of the season with our Christmas Toy Sale flyer template!