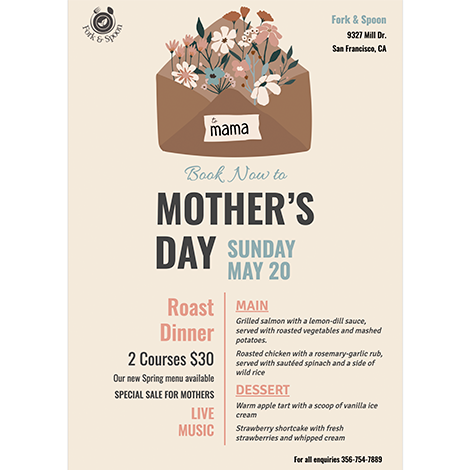 Introducing our enchanting Boho-style Mother's Day Dinner Event Google Docs Template, a captivating and unique tool designed to help you create stunning promotional materials for your special event. With this template, you can effortlessly transport your audience to a world of warmth and elegance, and generate excitement for your Mother's Day Dinner Event.

Crafted with elegance and a touch of bohemian flair, this Google Docs template features hand-drawn graphics of flowers growing out of an envelope, creating a whimsical and visually appealing design. The boho-style artwork perfectly embodies the free-spirited nature of Mother's Day, evoking a sense of community, appreciation, and celebration.

This user-friendly template allows you to easily customize every element to suit your unique style and brand. From event details to persuasive messages, you have full control over the content, ensuring that your Mother's Day Dinner Event is represented with authenticity and clarity. Engage your audience with heartfelt messages, enticing descriptions, and compelling calls-to-action that will leave a lasting impact.

Designed for practicality and efficiency, this template offers pre-designed sections for all your essential event information. Feature the special menu and then highlight the date, time, and location, and provide clear instructions on how attendees can RSVP or purchase tickets. With customizable placeholders for images, you can easily showcase your event space, tantalizing menu, or the individuals who will be joining you for the evening.

As a Google Docs template, this versatile tool allows for easy collaboration and sharing. Seamlessly collaborate with your team, make real-time updates, and ensure a cohesive and impactful message that resonates with your audience. Whether you're a seasoned event organizer or a passionate advocate, this template streamlines the process and saves you valuable time and effort.

This Mother's Day, go beyond the ordinary and create a truly unforgettable event with our Boho-style Mother's Day Dinner Event Google Docs Template. Transport your audience to a world of warmth, celebration, and appreciation with enchanting graphics and heartfelt messages. Get your hands on our template today and make your Mother's Day Dinner Event a success.