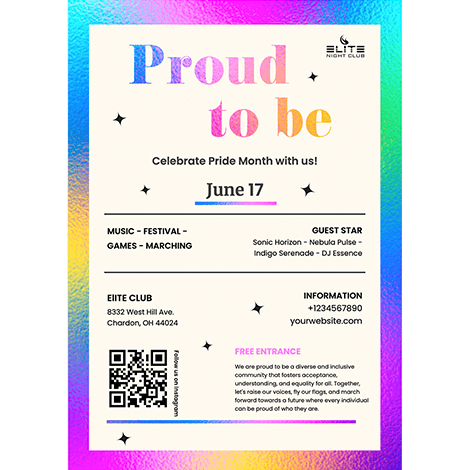 Presenting our vibrant 'Proud to Be Me' Pride Event Google Docs Template, especially crafted for Pride Club events. This radiant template captures the spirit of Pride with its iridescent rainbow border and bold typography, designed to create a profound impact and elevate your event communication.

The striking feature of this template is its iridescent rainbow border, reflecting the full spectrum of the LGBTQ+ community's vibrant diversity. This holographic border acts as an enticing frame, drawing the viewer's attention to your event details while also symbolizing the celebration of love, equality, and self-expression.

In the heart of the template, against a tastefully chosen neutral background, the words 'Proud to Be Me' are set in bold, modern typography. These empowering words not only evoke a strong sense of self-love and pride but also set the tone for your event, reinforcing the importance of identity and individuality.

This template provides ample space for your event information, whether it's the date, location, schedule, or list of guest speakers. The layout has been carefully structured for easy readability, ensuring your audience can access all essential details without any hassle.

The 'Proud to Be Me' Google Docs Template is more than just a document - it's a statement of celebration and acceptance. Whether you are planning a panel discussion, a parade, a party, or a rally, this template will help your event information stand out, promoting the spirit of Pride in every word. Be loud, be proud, and make a bold statement with our 'Proud to Be Me' template!