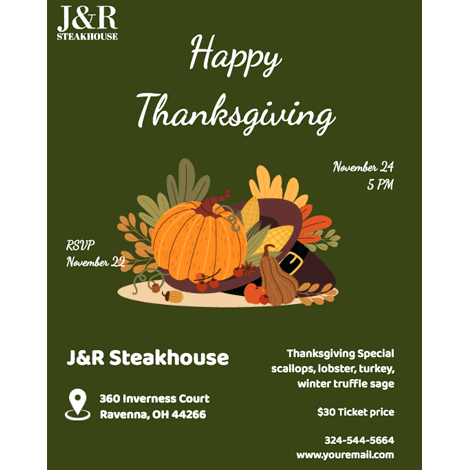 Introducing our Thanksgiving Restaurant Invite template, specially designed for Google Docs! This eye-catching and customizable template is perfect for promoting your restaurant's Thanksgiving specials and deals in a professional and effective way.

The template features a warm and inviting design with beautiful autumnal colors and customizable text boxes to highlight your restaurant's unique offerings. You can easily input details about your Thanksgiving menu, special promotions, and contact information to create a personalized and engaging advertisement that will grab the attention of potential customers.

Whether you're a small local eatery or a larger restaurant chain, this template is the perfect way to attract customers looking for a delicious Thanksgiving meal. So why wait? Download our Thanksgiving Restaurant Special Advertisement Template today and start promoting your restaurant's specials with style and ease!