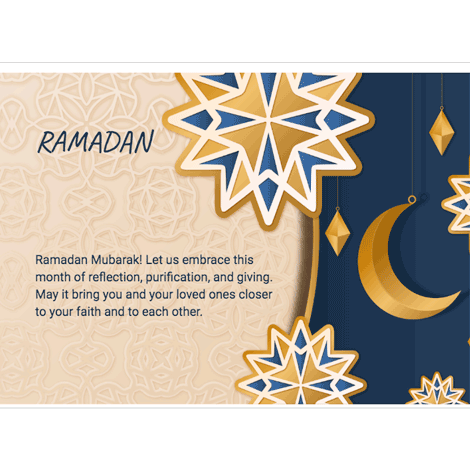 Introducing our new Google Doc template for Ramadan Blessings. This beautifully designed template is perfect for anyone looking to send heartfelt and meaningful Ramadan greetings to their family, friends, and community.

The Ramadan Blessings template features a clean and elegant design, with a color scheme inspired by the holy month of Ramadan. It includes customizable sections for your message, images, and signature, allowing you to personalize your greeting and make it truly special.

This template is fully editable, allowing you to adapt it to your unique needs and preferences. You can change the text, font, and colors to match your style and add your own personal touch.

With the Ramadan Blessings template, you can quickly and easily create a beautiful and heartfelt greeting that will convey your love and appreciation to those you care about. Whether you're sending a message of love and peace to your family, or reaching out to your community with a message of hope and unity, this template will help you create a memorable and meaningful Ramadan greeting.