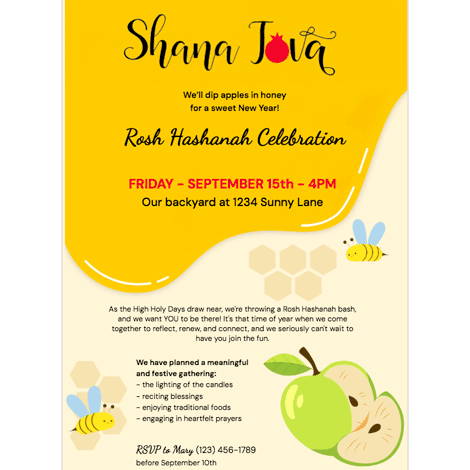 Introducing our Google Doc template for a Rosh Hashanah Community Honey Celebration! This template is designed to help synagogues, community centers, and organizations plan and promote a sweet and meaningful event that celebrates the traditions of Rosh Hashanah.

Perfect for fostering community spirit, this template offers a well-structured format for outlining the details of your Honey Celebration. With customizable sections, you can effortlessly share information about the event date, time, location, honey-related activities, and any special messages or blessings.

Our Google Doc template is user-friendly, allowing you to easily personalize the text, colors, and layout to align with your organization's branding and the cultural significance of Rosh Hashanah. Whether you're planning a honey tasting event, communal meal, or educational program, this template provides a versatile and customizable solution for your event communications.

With this template, you can create a document that not only informs but also celebrates the sweetness of Rosh Hashanah with your community. Simplify your event planning and enhance the sense of togetherness during this important holiday with our Rosh Hashanah Community Honey Celebration template.