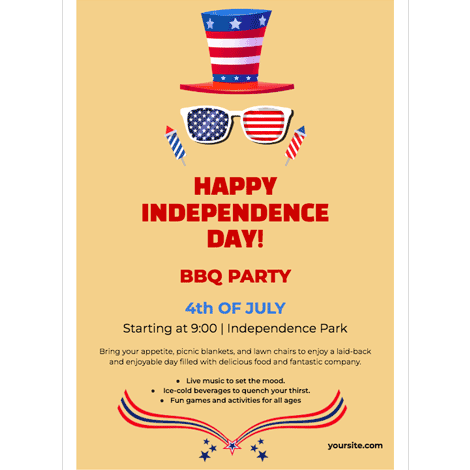 Introducing our festive Google Doc template designed exclusively for your 4th of July Fun Flair invite! Add a touch of excitement and playfulness to your Independence Day celebration with this visually appealing template.

Perfect for party organizers, event planners, or individuals hosting 4th of July gatherings, this template sets the stage for a fun-filled and memorable event. The template features vibrant colors, playful icons, and decorative elements that perfectly capture the energetic spirit of the holiday.

With its customizable sections, you can effortlessly fill in event details such as the date, time, and location of your Fun Flair invite. Craft a lively and engaging message that conveys the excitement of Independence Day celebrations and the joy of coming together with friends and family. Enhance the invite with eye-catching images that showcase the festive atmosphere and the variety of activities planned.

The Google Doc template offers a seamless editing experience, allowing you to personalize the invitation to align with your event's theme and branding. Customize the text, colors, and images to create a cohesive and visually appealing experience for your recipients.

With our Google Doc template for your 4th of July Fun Flair invite, you can infuse your event with a sense of fun and celebration. Create anticipation among your guests with a lively invitation that reflects the lively nature of the holiday. Invite your community to a memorable 4th of July gathering filled with laughter, games, and unforgettable moments with this vibrant template.