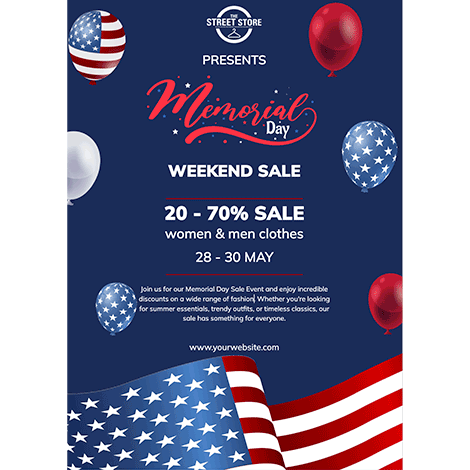 Introducing our exclusive Memorial Day Festive Sale Event Google Doc Template, your secret weapon for planning and promoting a spectacular sale during the holiday weekend!

Designed to captivate shoppers and boost sales, this professionally-crafted template simplifies the process of creating a compelling promotional flyer or advertisement. Whether you're hosting an in-store sale, an online shopping extravaganza, or a combination of both, this versatile template is your ultimate marketing companion.

The template features a visually stunning layout that showcases the spirit of Memorial Day while highlighting your irresistible offers. With customizable sections for event details, product highlights, discounts, and special promotions, you can effortlessly convey the excitement and value of your Memorial Day sale.

Personalize the template to align with your brand's visual identity and messaging. Adjust fonts, colors, and graphics to create a cohesive and eye-catching design that grabs attention and drives traffic to your sale. With this template, you'll effortlessly communicate the allure of your products and generate excitement among your target audience.

Leverage the collaborative power of Google Docs by sharing the template with your marketing team. Everyone can work together in real-time, making updates and edits seamlessly, ensuring a unified and impactful marketing campaign.

Say goodbye to the stress of designing sale materials from scratch. Our Memorial Day Festive Sale Event Google Doc Template saves you time and energy, allowing you to focus on planning an outstanding sales experience for your customers.

Get ready to make this Memorial Day weekend a shopping extravaganza with our Google Doc Template. Don't miss out on this invaluable resource for organizing and promoting your Memorial Day Festive Sale Event. Get your hands on our template now and watch your sales soar during this holiday celebration!