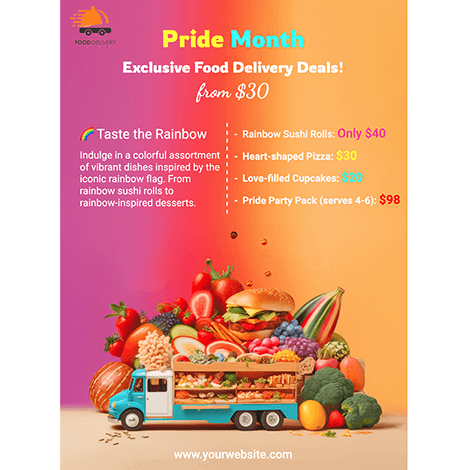 Celebrate Pride Month with flavor and flair using our specially designed Google Docs Template for food delivery services. Tailored to encapsulate the spirit of diversity and inclusion, this vibrant template allows you to showcase your food delivery deals in a way that aligns with the colorful celebration of Pride.

At the core of this template is an expressive design featuring radiant rainbow elements – a universal symbol of Pride. The vivacious color palette not only captures the attention of your customers but also underlines your support for the LGBTQ+ community, fostering a sense of unity and acceptance.

The template is organized in a way that allows you to efficiently feature your food delivery deals during Pride Month. The dynamic layout provides ample space for high-resolution images of your dishes or deals, along with an area for detailed descriptions, prices, and ordering instructions. It's designed with clarity in mind, ensuring that your customers can easily navigate the information.

A special feature of this template is the 'Pride Specials' section, a dedicated area where you can highlight dishes or deals curated specifically for Pride Month. This could include rainbow-themed dishes, meals that donate a portion of proceeds to LGBTQ+ charities, or simply your most popular offerings.

Moreover, our template includes an easy-to-update contact and social media information section, ensuring your customers can reach out to you effortlessly.

Our Pride Month Food Delivery Google Docs Template for food delivery services brings together the best of functional design and spirited visuals, helping you deliver not just great food, but also a meaningful message. Highlight your deals, showcase your support, and celebrate diversity with our vibrant template!