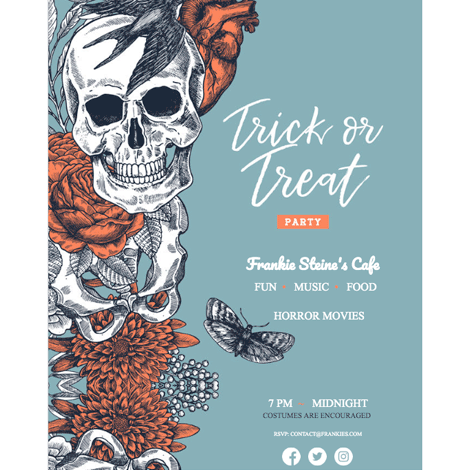 Get ready to spook up your Halloween Party with our stylish and easy-to-use Halloween Party 3 flyer Invitation Google Doc Template! With its spooky design and customizable format, this template is perfect for those who want to create an invitation that stands out from the rest.

Our Halloween Party Flyer Invitation features a hauntingly beautiful design that includes classic Halloween elements like illustrations of skeletons, hearts and flowers. The template is fully editable on Google Docs, allowing you to add your own party details and personalize it according to your taste.

With this Halloween Party Flyer Invitation, you'll have everything you need to create a flyer that will grab people's attention and get them excited for your event. Whether you're throwing a costume party, pumpkin carving contest, or a scary movie night, this template is the perfect way to let your friends and family know about your Halloween event.

So why wait? Download our Halloween Party Flyer Invitation Google Doc Template now and start creating your spooktacular invitations that are sure to make a lasting impression!