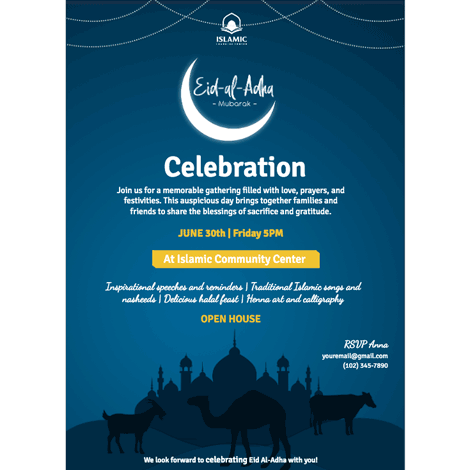 Introducing our elegant Google Doc template designed exclusively for your Eid al-Adha Event! Set the stage for a memorable celebration with this visually stunning template that perfectly captures the essence of this auspicious occasion.

Ideal for mosques, cultural organizations, and community centers hosting Eid al-Adha events, this template offers a sophisticated and professional design. The template features tasteful Islamic patterns, warm colors, and stylish typography that create an atmosphere of unity and reverence.

With its customizable sections, you can effortlessly fill in event details such as the date, time, and location of your Eid al-Adha Event. Craft a heartfelt message that conveys the significance of the occasion and the joy of coming together as a community. Enhance the invitation with beautiful images that reflect the spirit of Eid al-Adha and the festive atmosphere.

The Google Doc template provides a user-friendly editing experience, allowing you to personalize the invitation to align with your organization's branding. Customize the text, colors, and images to create a cohesive and visually appealing experience for your recipients.

With our Google Doc template for your Eid al-Adha Event, you can create an atmosphere of anticipation and unity among your guests. Invite your community to partake in a joyous celebration filled with prayer, reflection, and togetherness. Make your Eid al-Adha Event truly memorable with this elegant template that conveys the beauty and significance of this sacred occasion.