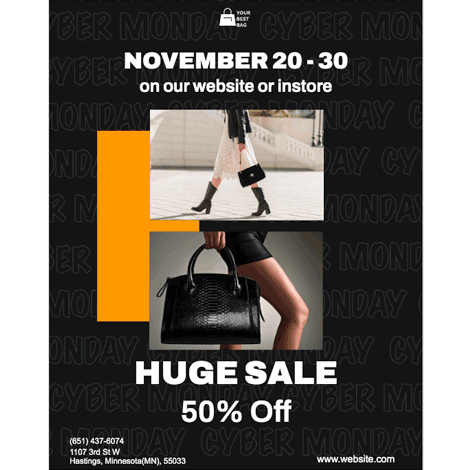 Introducing our stylish and sophisticated Cyber Monday High End Accessory Sale Google Doc template, perfect for promoting your high-end accessories sale. This template features a sleek and minimalist design that highlights your products and emphasizes their luxurious quality.

With fully customizable sections for flyers, email newsletters, and social media graphics, this template makes it easy to create promotional materials that showcase your accessories and entice customers to take advantage of your Cyber Monday deals.

Whether you sell designer handbags, fine jewelry, or other high-end accessories, this template will help you create professional-looking marketing materials that capture the attention of your target audience. The elegant color scheme and tasteful layout exude a sense of exclusivity and luxury, appealing to discerning shoppers who value quality and sophistication.

So don't miss out on the opportunity to boost your sales and elevate your brand during Cyber Monday. Start customizing your high-end accessories sale materials today with our stylish and sophisticated Google Doc template.