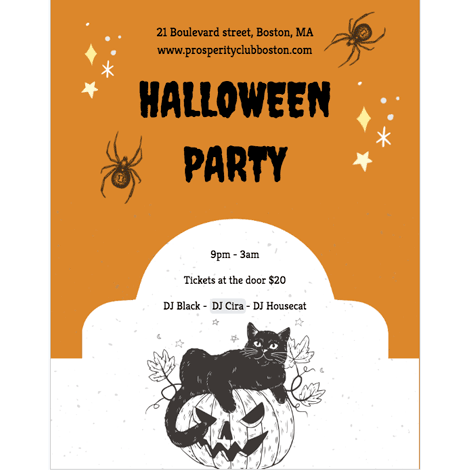 Introducing our Halloween Dance Club Google Doc template designed specifically for promoting your Halloween dance club event! This customizable template is perfect for creating a flyer that will capture people's attention and get them excited for your party.

The template features a spooky yet vibrant design, with graphics of ghosts, pumpkins, and other Halloween elements. It includes sections for showcasing your club's name, date, time, location, and ticket information. There's also space for including images of your DJ or the venue.

Using the template is easy and straightforward, with editable text and image fields that allow you to customize the design to your liking. You can change the colors, fonts, and layout to match your club's style and vibe.

Whether you're an experienced club promoter or just starting out, our Google Doc template is the perfect tool to help you create a professional-looking flyer in minutes. With this template, you'll be able to attract more people to your Halloween dance party and create a memorable experience for your guests. Get ready to dance the night away with this awesome template!