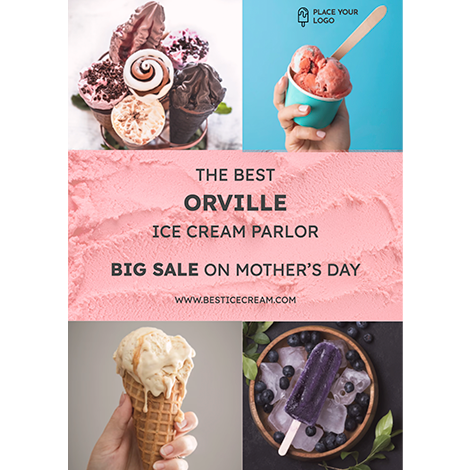 Introducing our mouth-watering Mother's Day Ice Cream Sale Google Docs Template, the perfect tool to promote your upcoming ice cream sale event in a fun and playful way. With its bright and colorful poster design, this template is sure to grab the attention of ice cream lovers and moms with a sweet tooth.

The bright and eye-catching photos of ice cream products and the modern layout are designed to create a sense of excitement and anticipation. This template makes it easier than ever to create a beautiful and professional poster that reflects your brand's unique style and personality. Add fun and playful descriptions that will make your ice cream flavors even more irresistible.

You can also opt to use these photos as placeholders and swap them for your own to showcase your scrumptious ice cream flavors in a visually stunning way that will make your customers' mouths water.

As a Google Docs template, this versatile tool allows for easy collaboration and sharing. Seamlessly collaborate with your team, make real-time updates, and ensure a cohesive and impactful message that resonates with your audience. With the ability to add personal touches and customize the poster to your liking, this template will help you create a unique and special tribute to the amazing mothers in your life.

This Mother's Day, celebrate the special moms in your life with our Mother's Day Ice Cream Sale Google Docs Template. Embrace the fun and playful world of ice cream, create a memorable event, and spread joy and sweetness to all. Get your hands on our template today and create a Mother's Day poster that will leave a lasting impression on your customers.