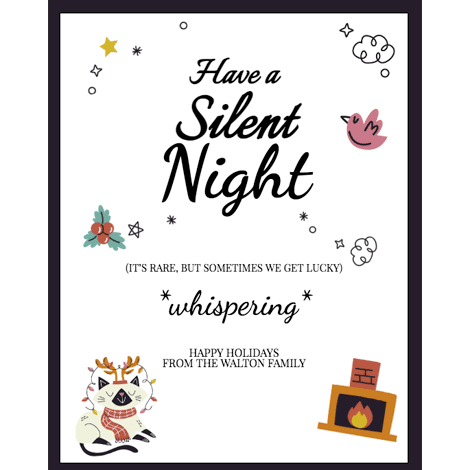 Capture the magic of the holiday season with our "Silent Night Christmas Card" Google Docs template. Designed in a minimalistic and timeless style, featuring a classic black and white color scheme adorned with adorable Christmas illustrations, this template is the perfect canvas to send warm wishes and personal messages to your loved ones during the festive season.

Why should you choose our "Silent Night Christmas Card" template? It's all about spreading the joy and wonder of Christmas while sending your personalized greetings to friends and family. This template provides a clean and well-organized layout for crafting your personal message, offering ample space to express your warmest wishes, share your holiday stories, or simply convey your heartfelt sentiments. Whether you're sending Christmas cards to loved ones near or far, this template simplifies the process of creating cards that are both visually charming and deeply meaningful.

The combination of the minimalistic design and the array of cute Christmas illustrations creates a sense of nostalgia and holiday warmth. It's your opportunity to connect with your recipients and bring a touch of festive joy to their holiday season. Whether you're sharing your love, gratitude, or well-wishes, this template helps you infuse your Christmas cards with a sense of tradition and the spirit of giving.