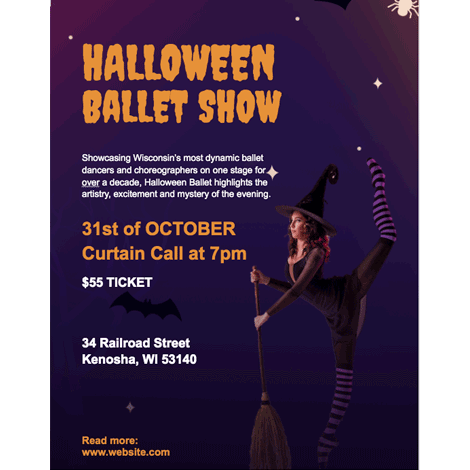 Introducing our spooky and stylish Halloween Dance Show Google Doc template for a Halloween Dance show or special event! This template is perfect for anyone looking to create a memorable and professional invitation for their Halloween-themed dance performance or party.

Featuring elegant Halloween-themed graphics and customizable text, this template allows you to easily add your event details and make it your own. The layout is designed to be visually stunning, with eye-catching graphics and plenty of space for your event information, so you can create a truly unique and memorable invite.

With its user-friendly format, you can quickly create a professional-looking invitation that will get your guests excited to attend your Halloween dance show or special event. Whether you're hosting a spooky ballet performance or a fun and funky Halloween party, this template is sure to impress. So why wait? Start customizing your Halloween Dance show or special event invite today!