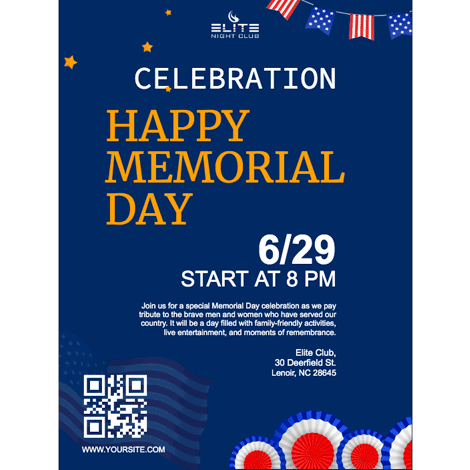 Introducing our Modern Memorial Day Invite Google Doc Template, the perfect solution for creating a sleek and contemporary invitation for your Memorial Day gathering!

Designed with style and sophistication in mind, this professionally-crafted template allows you to effortlessly create an invitation that reflects the modern spirit of the holiday. Whether you're hosting a chic rooftop party, a trendy brunch, or a stylish soirée, this template is the key to setting the right tone for your Memorial Day event.

The template features a clean and minimalist design that exudes elegance. With customizable sections for event details, RSVP information, and a modern aesthetic, you can create an invitation that stands out and leaves a lasting impression on your guests.

Personalize the template to match your event's unique style. Adjust fonts, colors, and layout to create a cohesive and visually striking design that captures the essence of modernity. Add your own images or graphics to make the invitation truly one-of-a-kind.

Share the template with your event planning team using Google Docs' collaboration features, allowing everyone to contribute and make real-time edits. This ensures a seamless and efficient invitation design process, saving you time and effort.

Say goodbye to generic and outdated invitations. Our Modern Memorial Day Invite Google Doc Template empowers you to create an invitation that aligns with the contemporary aesthetic you desire, making a statement and setting the tone for your event.

Make this Memorial Day unforgettable with our Google Doc Template. Don't miss out on this essential resource for organizing your modern and stylish gathering. Get your hands on our template today and invite your guests to a Memorial Day celebration that exudes elegance and sophistication!