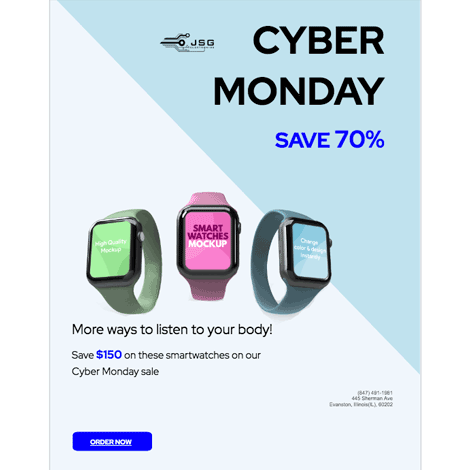 Introducing our Cyber Monday Modern Cool Blue Marketing Google Doc template featuring a stylish blue marketing design. This template is perfect for businesses looking to create promotional materials that convey a sense of professionalism and innovation during the biggest online shopping day of the year.

With fully customizable sections for flyers, social media graphics, and email newsletters, this template makes it easy to create high-quality marketing materials that capture the attention of your target audience. The cool blue color scheme and contemporary design elements create a sense of calmness and confidence, reassuring customers that they're making a smart purchase.

Whether you're a tech company, a fashion brand, or any other business looking to capitalize on Cyber Monday, this template will help you create promotional materials that stand out from the competition. The sleek and modern design appeals to customers who appreciate innovation and cutting-edge technology.

So why wait? Start customizing your Cyber Monday sale materials today with our modern and cool Google Doc template. With its professional and polished design, this template is sure to help you attract more customers and boost your sales.