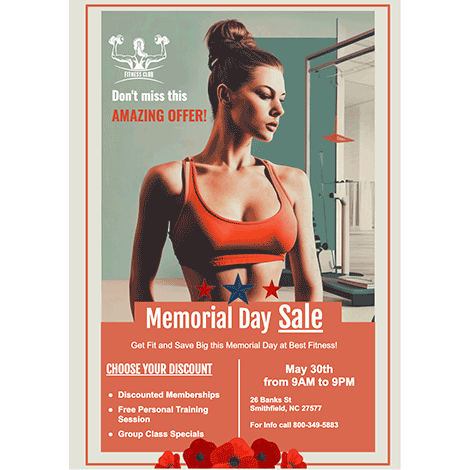 Introducing our exclusive Memorial Day Fitness Club Offer Google Doc Template, the ultimate tool for fitness clubs and gyms to promote their unbeatable deals and attract new members this holiday season!

Designed with fitness enthusiasts in mind, this professionally-crafted template provides a visually appealing and compelling way to showcase your Memorial Day promotions and encourage individuals to kick-start their fitness journey with your club.

The template features a dynamic layout that highlights your fitness club's unique offerings, including exclusive discounts, special classes, personal training packages, and more. With customizable sections for event details, membership options, and testimonials, you can effectively communicate the value and benefits of joining your fitness club during the Memorial Day period.

Personalize the template to align with your brand's identity and aesthetic. Adjust colors, fonts, and graphics to create a visually striking design that captures attention and conveys a sense of energy and motivation. With this template, you'll inspire individuals to embrace a healthy lifestyle and take advantage of your Memorial Day fitness club offer.

Utilize the collaborative features of Google Docs by sharing the template with your marketing team. Collaborate in real-time, make updates, and fine-tune the offer details, ensuring a cohesive and persuasive marketing campaign.

Bid farewell to the hassle of creating promotional materials from scratch. Our Memorial Day Fitness Club Offer Google Doc Template saves you time and effort, allowing you to focus on providing exceptional fitness experiences for your members.

Get ready to make this Memorial Day unforgettable with our Google Doc Template. Don't miss out on this invaluable resource for promoting your Memorial Day Fitness Club Offer. Grab our template today and watch as new members flock to your fitness club, ready to embark on their fitness journey!