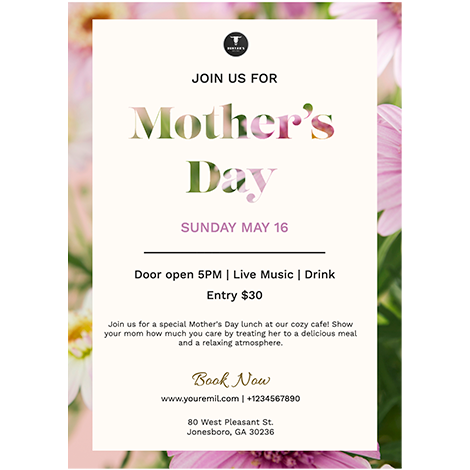 Introducing our breathtaking Mother's Day Event Invite Google Docs Template, the perfect tool to promote your upcoming event in a unique and visually stunning way. This template features a beautiful border of real colorful flowers that will immediately capture the attention of your audience and evoke feelings of warmth, love, and appreciation.

The exquisite floral border is the highlight of this template, created using real flowers to capture the beauty and elegance of nature. The flowers add a touch of delicacy and charm, creating a unique and visually stunning frame for your event details. 

This user-friendly template allows you to customize every element to suit your unique style and brand. With easy-to-use placeholders for event details, persuasive messages, and calls-to-action, you can effortlessly create a cohesive and impactful message that resonates with your audience. Engage your audience with heartfelt messages, enticing descriptions, and compelling calls-to-action that will ignite their desire to attend your special event.

Designed for practicality and efficiency, this template offers pre-designed sections for all your essential event information. Highlight the date, time, and location, and provide clear instructions on how attendees can RSVP or purchase tickets. 

As a Google Docs template, this versatile tool allows for easy collaboration and sharing. Seamlessly collaborate with your team, make real-time updates, and ensure a cohesive and impactful message that resonates with your audience. The stunning new font options add a touch of elegance and sophistication, creating a cohesive and visually stunning message that is sure to impress your attendees.

This Mother's Day, create a memorable event with our Mother's Day Event Google Docs Template. Embrace the beauty and elegance of real flowers, showcase your unique features, and spread love and appreciation to all. Get your hands on our template today and create a Mother's Day event that will leave a lasting impression on your attendees.