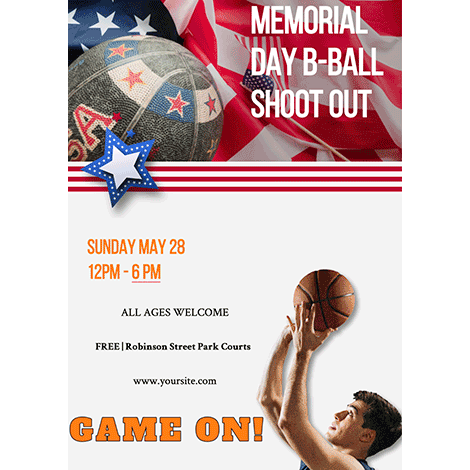 Introducing our exclusive Basketball Memorial Day Event Google Doc Template, the perfect tool to help you organize and commemorate a thrilling basketball gathering this Memorial Day!

Designed with precision and functionality in mind, this professionally-crafted template streamlines the event planning process, ensuring that no detail goes unnoticed. Whether you're hosting a friendly tournament, a skills competition, or a fan appreciation day, this versatile template is your go-to resource.

The template features a sleek and intuitive layout that allows you to effortlessly input key event information such as date, time, and location. Capture the essence of your basketball event with customizable sections for event highlights, team profiles, and participant registration. Keep participants and spectators informed with a dedicated section for game schedules, ensuring everyone stays engaged and excited throughout the day.

In addition to its visually appealing design, the template is fully editable, enabling you to tailor it to your event's specific requirements. Adjust fonts, colors, and graphics to match your event theme and branding, creating a cohesive and professional look. With this template, you'll showcase your attention to detail and impress participants and attendees alike.

What sets our Google Doc Template apart is its collaborative nature. Harness the power of Google Docs' real-time collaboration feature, allowing you to share the template with your event planning team. Everyone can simultaneously work on the document, making updates and edits in real-time, fostering seamless communication and enhancing productivity.

Say goodbye to the hassle of creating event documents from scratch. Our Basketball Memorial Day Event Google Doc Template empowers you with a time-saving solution, leaving you more time to focus on delivering an unforgettable basketball experience.

Don't miss out on this invaluable resource for organizing your Memorial Day basketball event. Get your hands on our Basketball Memorial Day Event Google Doc Template and make this year's celebration an extraordinary one!