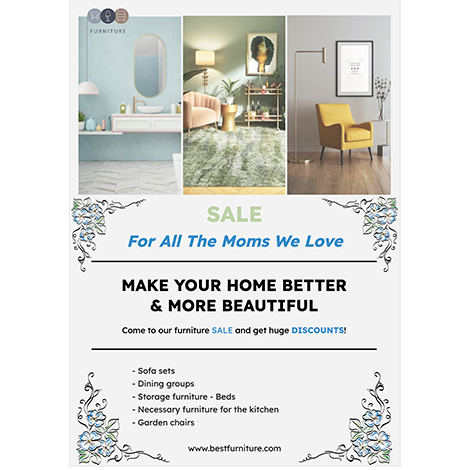 Introducing our captivating Floral Mother's Day Sale Google Docs Template, the perfect tool to promote your irresistible home goods sale with a touch of nature's beauty. This stunning email template is designed to captivate your audience, creating an enchanting and visually appealing experience that will entice them to explore your exclusive offers.

With its delightful floral design, the template blooms with elegance and charm, instantly evoking a sense of freshness and rejuvenation. Each element is meticulously crafted to complement your home goods, enhancing their appeal and creating a seamless connection between your products and the natural world.

This versatile email template offers you the freedom to customize it with your unique branding, ensuring a cohesive and personalized touch. With easy-to-use placeholders for captivating product images, persuasive text, and clickable call-to-action buttons, you can effortlessly showcase your best home goods and entice your subscribers to shop till they drop.

Don't settle for ordinary when you can dazzle your audience with our captivating Floral Mother's Day Sale Google Docs Template. Unlock the potential of your home goods sale, harness the power of floral aesthetics, and create a captivating email campaign that will leave a lasting impression. Get your hands on our Floral Sale Email Template today and start captivating your subscribers with the beauty of your home goods collection.