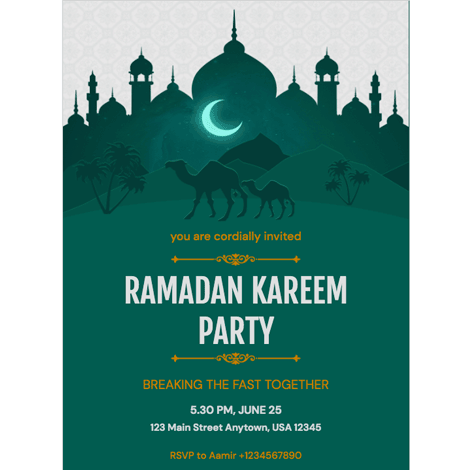 Introducing our Google Doc template for a Ramadan Iftar Celebrations invitation! This template is the perfect solution for anyone looking to invite guests to an Iftar celebration during the holy month of Ramadan.

Our template includes all the essential sections you need to create a stunning and informative invitation, such as event details, date, time, location, RSVP information, and a message section. The template is fully customizable and can be easily tailored to fit the unique needs of your celebration.

With our user-friendly template, you can easily create a professional-looking invitation that will impress your guests. The template also allows you to collaborate with your team in real-time, ensuring that everyone is on the same page.

Whether you're hosting a small gathering or a large event, our Ramadan Iftar Celebrations invitation template has got you covered. With a professional and organized template at your disposal, you can focus on creating a memorable and enjoyable Iftar celebration for your guests.

Save time and effort by using our Ramadan Iftar Celebrations invitation template and make your invitation creation process smoother and more efficient. With our template, you'll have everything you need to create a beautiful and informative invitation that celebrates the spirit of Ramadan and invites your guests to share in the joyous occasion.