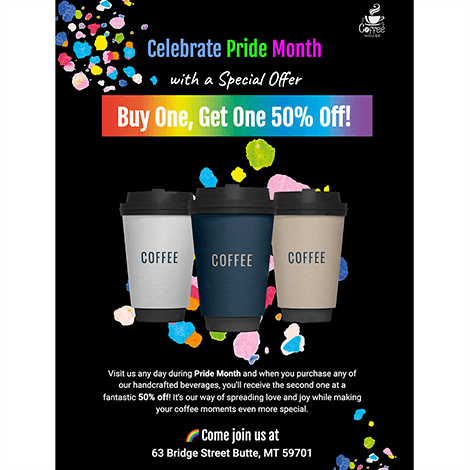 Introducing our vibrant Pride Month Special Offer Google Doc Template, designed to help businesses celebrate diversity and showcase their exclusive promotions with style. With its captivating design featuring a sleek black background adorned with scattered rainbow paint spots, this template is the perfect way to grab attention and spread the message of inclusivity.

Stand out from the crowd by easily customizing the template to fit your brand identity. Add your logo to the designated space, creating an instant visual connection with your audience. The centerpiece of the template is a strategically placed spot to feature your product, ensuring it takes center stage and captivates potential customers.

Highlight your special offer with flair and elegance using the eye-catching rainbow box. This vibrant addition draws immediate attention to your promotion, conveying the joy and celebration of Pride Month. Let your customers know they're in for something extraordinary, and inspire them to explore what your business has to offer.

Beyond the special offer, this template provides ample space for you to share additional details about your shop and location. Inform potential customers about your unique products, services, or events. Whether you're a local establishment or an online retailer, this template ensures that important information is beautifully presented, making it easy for customers to find you and connect with your brand.

Not only will this template help you create visually stunning advertisements, but it also showcases your commitment to supporting the LGBTQ+ community. By using this template, you align your business with the principles of equality and acceptance, fostering an environment of inclusivity that resonates with customers from all backgrounds.

Celebrate Pride Month and spread the love with our Pride Month Special Offer Google Doc Template. Customize, create, and connect with your audience in a meaningful way. Embrace the spirit of diversity, and let your business shine with this captivating and powerful template. Get ready to make an impact that goes beyond your products or services and fosters a sense of unity and acceptance.