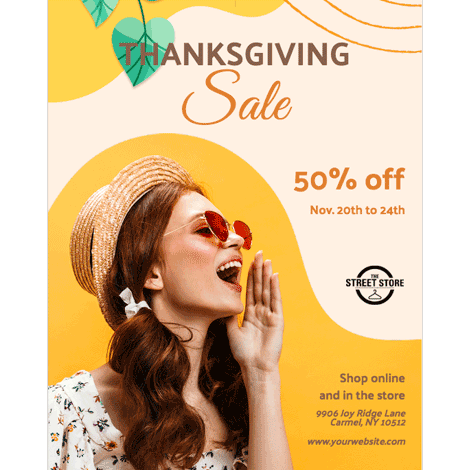 Get ready to light up the holiday season with our Thanksgiving Sale Google Doc template! Featuring a bold and bright color scheme of oranges, yellows, and greens, this template is the perfect way to announce your Thanksgiving sale to customers and clients.

With its customizable design, you can easily add your own text, images, and branding elements to create a professional-looking flyer or advertisement in no time. Whether you're highlighting a specific product or offering discounts across your entire store, the Thanksgiving Sale template is perfect for getting your message across in a bold and eye-catching way.

Designed for use with Google Docs, the template is easy to edit and share, making it the perfect choice for teams collaborating on a promotional campaign or for individual users looking to create a standout advertisement. Plus, with its vibrant and playful design, the Thanksgiving Sale template is sure to grab the attention of customers and help drive sales during the busy holiday season.

So why settle for a boring, lackluster promotional campaign when you can create something bright, bold, and attention-grabbing with our Thanksgiving Sale Google Doc template? Try it out today and start lighting up your holiday sales!