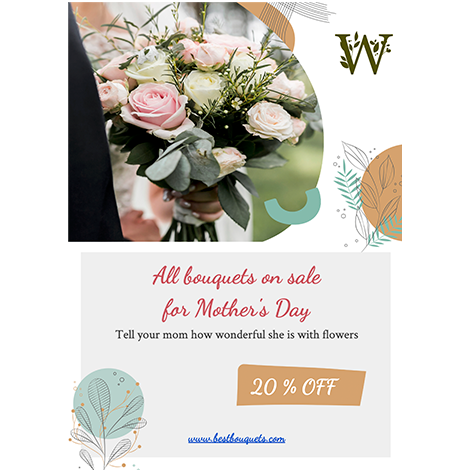 Introducing our dazzling Mother's Day Flower Sale Google Docs Template, a stunning and engaging tool designed to help you promote your flower sale with style and elegance. Featuring beautiful and vivid graphics of a big, beautiful bouquet of flowers, this template captures the essence of Mother's Day and is sure to delight your audience.

With its bright and colorful graphics, this template brings the beauty and charm of fresh flowers to life. The bouquet is carefully arranged to create an eye-catching centerpiece, highlighting the beauty and vibrancy of nature. The design is not only visually stunning, but also sends a heartwarming message of love and appreciation for all the special moms out there.

Engage your audience with an exclusive offer, an irresistible call-to-action or a limited time sale that will make them want to purchase your beautiful blooms. The bouquet of flowers featured in this template is the perfect centerpiece for your Mother's Day flower sale. The beautiful and vibrant colors add a touch of excitement and create a visually stunning backdrop that perfectly embodies the spirit of Mother's Day. Whether you are a florist or a small business owner, this template is sure to help you create a memorable and successful flower sale.

As a Google Docs template, this versatile tool allows for easy collaboration and sharing. Seamlessly collaborate with your team, make real-time updates, and ensure a cohesive and impactful message that resonates with your audience. Whether you're a seasoned marketer or a passionate advocate, this template streamlines the process and saves you valuable time and effort.

This Mother's Day, celebrate the special moms in our lives with our Mother's Day Flower Sale Google Docs Template. Embrace the beauty and elegance of fresh flowers, create a memorable sale event, and spread love and appreciation to all. Get your hands on our template today and create a Mother's Day Flower Sale that will leave a lasting impression on your customers.