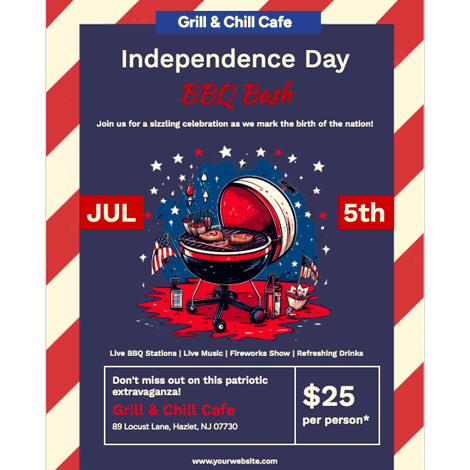 Introducing our delightful Google Doc template designed exclusively for your 4th of July BBQ Hand Drawn Flyer! Capture the essence of summer and celebrate Independence Day with this charming template that exudes a rustic and hand-drawn appeal.

Perfect for individuals, event organizers, or community groups hosting 4th of July BBQ events, this template adds a touch of nostalgia and whimsy to your flyer. The template features hand-drawn illustrations of classic BBQ elements, such as burgers, hot dogs, grill utensils, and fireworks, creating a visually engaging and inviting design.

With its customizable sections, you can effortlessly fill in event details such as the date, time, and location of your BBQ celebration. Craft a lively and enthusiastic message that highlights the festive nature of the occasion. Enhance the flyer with vibrant colors and playful typography that perfectly captures the spirit of summer and the 4th of July.

The Google Doc template provides a user-friendly editing experience, allowing you to personalize the flyer to align with your event's theme and style. Customize the text, colors, and images to create a cohesive and visually appealing experience for your recipients.

With our Google Doc template for your 4th of July BBQ Hand Drawn Flyer, you can create an invitation that stands out and sparks excitement. Embrace the charm of hand-drawn illustrations and invite your community to a memorable BBQ celebration. Celebrate Independence Day with a touch of nostalgia and joy using this delightful template.