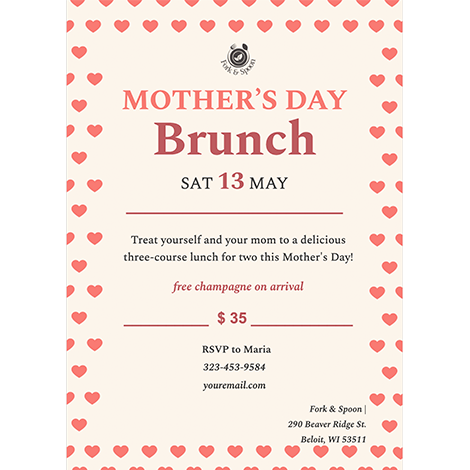 Celebrate Mother's Day in style with our stunning Mother's Day Hearts Brunch Invite Google Docs Template. This simple template is the perfect tool to create an elegant and heartfelt invitation for your Mother's Day brunch event. Featuring a minimalist design and a beautiful border of red hearts, this template exudes love and affection, making it a perfect tribute to all the amazing moms out there.

The beautiful border of red hearts is the highlight of this template, creating a visually stunning frame for your event details. The hearts add a touch of elegance and charm, and the warm color scheme conveys a sense of love and appreciation, perfectly embodying the spirit of Mother's Day. This template also features new and exclusive design elements, such as updated text boxes and pre-designed sections, that make it even easier to create a beautiful and professional invitation.


Designed for simplicity and efficiency, this template offers pre-designed sections for all your essential event information. Highlight the date, time, and location, and provide clear instructions on how your guests can RSVP or reserve their seats. The new features of the template also include placeholders for additional information, such as menu items and dietary restrictions, making it easier to plan and organize your event.

As a Google Docs template, this versatile tool allows for easy collaboration and sharing. Seamlessly collaborate with your team, make real-time updates, and ensure a cohesive and impactful message that resonates with your guests. The template also allows you to add personal touches and customize the invitation to your liking, making it a unique and special tribute to the amazing mothers in your life.

This Mother's Day, show your appreciation for the special moms in your life with our Mother's Day Brunch Google Docs Template. Embrace the love and warmth of the red heart border, create a memorable event, and make it a day to remember for all. Get your hands on our template today and create a beautiful and heartfelt invitation that will leave a lasting impression on your guests.