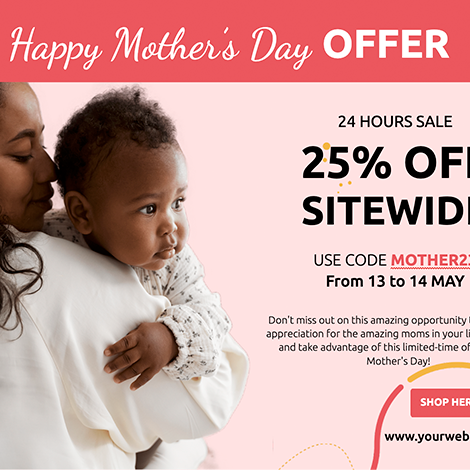 Introducing our beautiful and eye-catching Mother's Day Horizontal Sales Promotions Google Docs Template, designed to help you promote your special deals and offers in a unique and visually stunning way. This template features a beautiful mother and baby photograph in a landscape format, creating an impactful and heartfelt message for all the special moms out there.

The mother and baby graphic is the highlight of this template, exuding warmth, love, and tenderness. The unique landscape format allows for a more creative and visually appealing presentation of your sales promotions, making it stand out from other Mother's Day promotions. This template also features new and exclusive design elements, such as updated font options and customizable placeholders, that make it even easier to create a beautiful and professional message.

This user-friendly template allows you to customize every element to suit your unique style and brand. With easy-to-use placeholders for sales details, persuasive messages, and calls-to-action, you can effortlessly create a cohesive and impactful message that resonates with your audience. Engage your customers with compelling descriptions, exclusive offers, and irresistible calls-to-action that will make them want to take advantage of your sales promotions.

Highlight the discounts, and promotions, and provide clear instructions on how your customers can take advantage of these offers. The new customizable placeholders for images allow you to showcase your products in a visually stunning way, enhancing their appeal and driving sales.

As a Google Docs template, this versatile tool allows for easy collaboration and sharing. Seamlessly collaborate with your team, make real-time updates, and ensure a cohesive and impactful message that resonates with your audience. The template also allows you to add personal touches and customize the promotions to your liking, making it a unique and special tribute to the amazing mothers in your life.This Mother's Day, celebrate the special moms in your life with our Mother's Day Sales Promotions Google Docs Template.