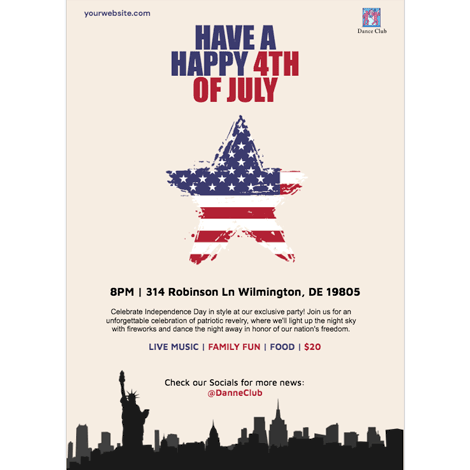 Introducing our captivating Google Doc template designed specifically for your 4th of July American Skyline invite! Capture the essence of Independence Day with this visually stunning template that showcases the iconic American skyline.

Perfect for event organizers, party planners, or individuals hosting 4th of July celebrations, this template sets the stage for a memorable gathering. The template features a breathtaking American skyline backdrop, symbolizing patriotism, freedom, and the spirit of the holiday.

With its customizable sections, you can effortlessly fill in event details such as the date, time, and location of your American Skyline invite. Craft a compelling message that emphasizes the significance of Independence Day and the joy of coming together to celebrate. Enhance the invite with captivating images that showcase the beauty of the American skyline and the excitement of the occasion.

The Google Doc template provides a user-friendly editing experience, allowing you to customize the invitation to align with your event's theme and branding. Adjust the text, colors, and images to create a cohesive and visually striking experience for your recipients.

With our Google Doc template for your 4th of July American Skyline invite, you can create a sense of anticipation and patriotism for your event. Transport your guests to the heart of the celebration, where they can revel in the spirit of freedom and unity. Invite your community to a memorable 4th of July gathering with this captivating template.