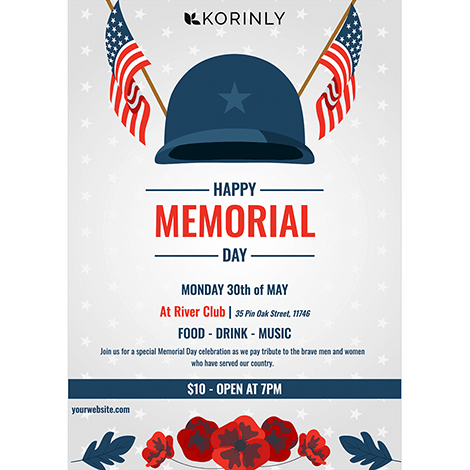 Announcing our captivating Memorial Day Celebration Invite Google Doc Template, the ultimate solution for creating a memorable and enticing invitation for your upcoming holiday gathering!

With its sleek design and customizable features, this template empowers you to effortlessly create an invitation that captures the essence of Memorial Day. Share the excitement of your celebration with eye-catching graphics, patriotic colors, and personalized text that sets the tone for your event.

Crafting the perfect invitation has never been easier. Simply input the event details, including the date, time, and location, and let the template do the rest. Whether you're hosting a backyard barbecue, a community picnic, or a solemn remembrance ceremony, this template adapts to your specific needs.

Take advantage of Google Docs' collaborative capabilities by sharing the invitation template with your event planning team. Collaborate in real-time, make edits, and finalize the invitation together, ensuring a polished and cohesive result that reflects the spirit of your Memorial Day Celebration.

Customization is key, and our template allows you to personalize every aspect. Adjust fonts, colors, and graphics to match your event's theme and create a visually stunning invitation that stands out. Tailor the invitation to suit your unique style and make a lasting impression on your guests.

Save time and effort with our Memorial Day Celebration Invite Google Doc Template, as it eliminates the need to start from scratch. Instead, focus on planning an unforgettable event and let the template handle the invitation design.

Don't miss out on this essential tool for organizing your Memorial Day Celebration. Get your hands on our Google Doc Template today and send out invitations that will have your guests counting down the days until the festivities begin!