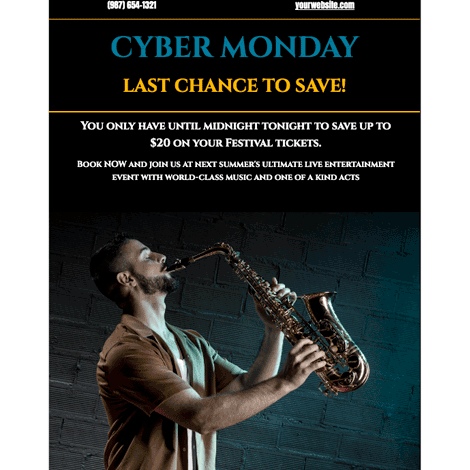 Introducing our exciting Cyber Monday Entertainment Sale Google Doc template designed specifically for live entertainment businesses and events. With its bold and vibrant design, this template is perfect for promoting your Cyber Monday sale on tickets for concerts, shows, and other live events.

Featuring fully customizable sections and eye-catching graphics, this template makes it easy to create flyers, posters, and social media graphics to help you spread the word about your Cyber Monday sale. From highlighting your discounted ticket prices to showcasing your top performers, this template has everything you need to create compelling promotional materials for your live entertainment business.

Whether you're a concert promoter, theater owner, or event organizer, this Cyber Monday template will help you capture the attention of potential customers and drive ticket sales. So don't miss out on this opportunity to promote your live entertainment business and increase your revenue. Start customizing your Cyber Monday sale materials today with our Live Entertainment Google Doc template.