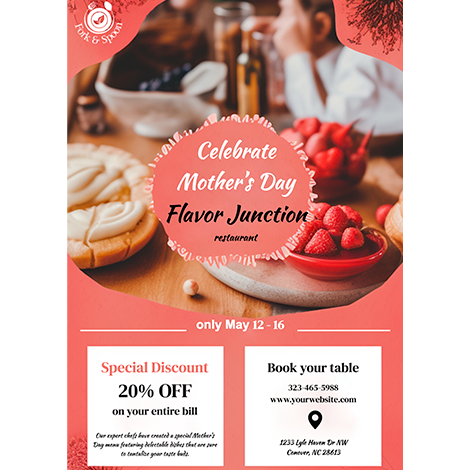 Looking for a way to promote your restaurant's Mother's Day specials to your email subscribers? Look no further than our Mother's Day Restaurant Special Google Docs Template! This template features a stunning, visually-appealing design that will grab the attention of viewers and entice them to make a reservation at your establishment.

With a sleek and modern design, this template is easy to use and customize to match your brand's style and identity. Our easy-to-use placeholders make it simple to input all of your event details, persuasive messages, and calls-to-action. Engage potential customers with compelling descriptions, exclusive deals, and irresistible calls-to-action that will make them feel valued and appreciated.

This user-friendly template offers pre-designed sections for all your essential event information, including holiday messaging, mission statements, and promotions. We provide clear instructions on how to reserve a table at your restaurant, making it easy for customers to book their spot. 

As an Google Docs template, this versatile tool allows for easy collaboration and sharing. Seamlessly collaborate with your team, make real-time updates, and ensure a cohesive and impactful message that resonates with your audience. The customizable features of this template allow you to add personal touches, making it a unique and special tribute to the amazing mothers in your life.

Celebrate the special moms in your life with our Mother's Day Restaurant Special Email Template. Its modern and sleek design, customizable features, and easy-to-use sections make it the perfect way to spread joy and appreciation to your subscribers. Get your hands on our template today and create an email that will leave a lasting impression on your audience.