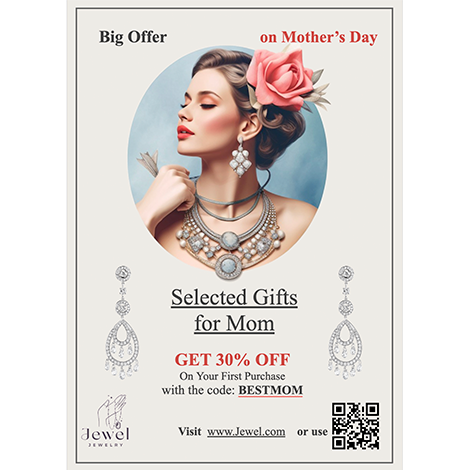 Introducing our Mother's Day Classic Jewelry Sale Google Docs Template, a captivating and nostalgic tool designed to help you create stunning promotional materials for your jewelry sale. With this template, you can effortlessly capture the essence of bygone eras, transport your audience to a world of timeless elegance, and generate excitement for your special event.

Immerse yourself in the allure of vintage aesthetics with this thoughtfully crafted Google Docs template. Inspired by the elegance of yesteryears, it showcases exquisite vintage artwork that evokes a sense of nostalgia and charm. Delicate flourishes, ornate typography, and muted colors combine to create a visually captivating backdrop that perfectly complements your exquisite jewelry collection.

This user-friendly template allows you to seamlessly edit and customize every element to suit your unique style and brand. From event details to persuasive messages, you have full control over the content, ensuring that your jewelry sale is represented with authenticity and clarity. Engage your audience with compelling descriptions, exclusive offers, and irresistible calls-to-action that will ignite their desire for your exquisite pieces.

The vintage artwork featured in this template sets the stage for an unforgettable jewelry sale. Transport your audience back in time and create an immersive experience that celebrates the timeless beauty and craftsmanship of your pieces. Let the charm of vintage aesthetics resonate with your customers and establish an emotional connection that will make your jewelry sale truly memorable.

As a Google Docs template, this versatile tool allows for easy collaboration and sharing. Seamlessly work with your team, make real-time updates, and ensure a cohesive and impactful message that resonates with your audience. Whether you're a jewelry retailer, a vintage enthusiast, or a lover of all things retro, this template streamlines the process and saves you valuable time and effort.

This jewelry sale, embrace the enchantment of vintage aesthetics with our Vintage Art Jewelry Sale Google Docs Template. Transport your audience to a world of timeless elegance, showcase your exquisite pieces, and create a truly unforgettable event. Get your hands on our template today and let the allure of vintage artwork elevate your jewelry sale to new heights of success.