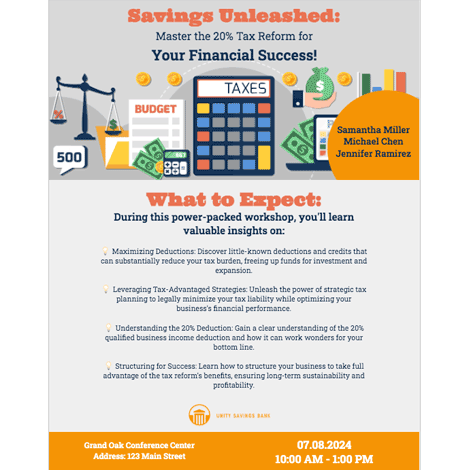 Introducing our comprehensive Google Doc template for a Tax & Financial Advisement Workshop! This template is designed to assist financial advisors, tax professionals, and workshop organizers in creating informative and visually engaging materials for financial education events.

Perfect for hosting workshops, seminars, or webinars on tax planning, financial literacy, and investment strategies, this template offers a structured and professional design. It features customizable sections for adding workshop details, session schedules, presenter bios, and registration information.

Our Google Doc template provides an intuitive editing experience, allowing you to easily tailor the content, colors, and layout to align with your branding and workshop theme. Whether you're an established financial advisor or a workshop organizer, this template streamlines the creation of workshop materials that will engage and educate your audience effectively.

With this template, you can elevate your Tax & Financial Advisement Workshop to a new level of professionalism and ensure that your participants have access to valuable and well-organized information. Simplify your workshop preparation and create compelling materials with our Tax & Financial Advisement Workshop template.