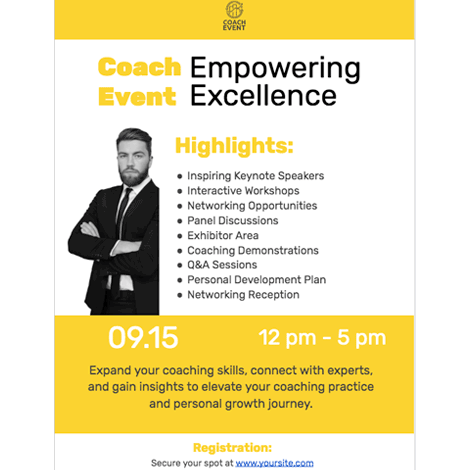 Introducing our Coaching Event Google Doc template—a powerful and organized tool designed to help you plan and execute a successful coaching event. This template offers a streamlined and professional way to manage all aspects of your coaching event, ensuring a seamless and impactful experience for both coaches and participants.

With its clean and user-friendly design, this template provides a comprehensive framework to structure your coaching event. From scheduling sessions and managing participant registrations to tracking event progress and feedback, our template keeps you on top of every detail, allowing you to focus on delivering exceptional coaching sessions.

Customization is made easy with our Google Doc template. Personalize the event details, including dates, locations, coaching topics, and contact information. The template's intuitive features allow you to modify and adapt the document to suit the unique requirements of your coaching event.

By utilizing our Coaching Event Google Doc template, you can enhance the organization and efficiency of your coaching event, leaving no room for oversight or miscommunication. The template empowers you to create a professional and well-structured event that ensures a rewarding and enriching experience for all participants.

Plan and manage your coaching event with confidence. Choose our Coaching Event Google Doc template to streamline your event planning process, resulting in a memorable and impactful coaching experience. Elevate your event management and coordination with this versatile and efficient template that ensures your coaching event is a resounding success.