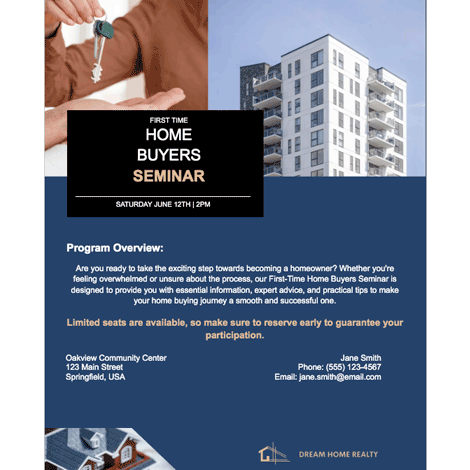 Introducing our comprehensive Google Doc template for a Home Buyers Seminar Program Overview! This template is designed to assist real estate professionals and organizations in crafting informative and visually engaging materials for home buyer education seminars.

Ideal for hosting seminars, workshops, or webinars on home buying and real estate, this template offers a structured and professional design. It includes customizable sections for outlining the seminar agenda, speaker profiles, key topics, and registration information, ensuring your program overview is well-organized and informative.

Our Google Doc template provides an intuitive editing experience, allowing you to easily tailor the content, colors, and layout to align with your branding and seminar theme. Whether you're a seasoned real estate professional or a seminar organizer, this template simplifies the creation of program materials that engage and educate your audience effectively.

With this template, you can elevate your Home Buyers Seminar Program Overview to a new level of professionalism, equipping potential homebuyers with valuable insights to make informed decisions in the real estate market. Streamline your seminar preparation and create compelling materials with our Home Buyers Seminar Program Overview template, setting the stage for a successful and enlightening event.