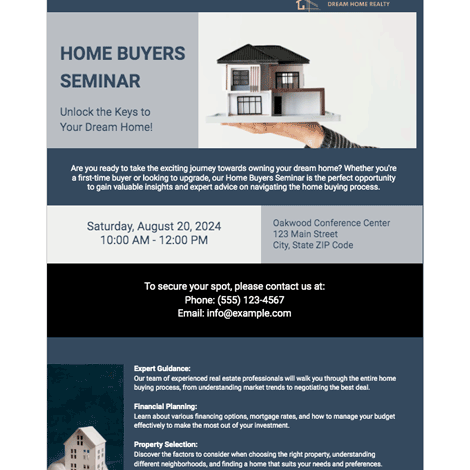 Introducing our comprehensive Google Doc template for a Home Buyers Seminar! This template is your essential tool for hosting informative and engaging seminars that empower potential homebuyers with essential knowledge and guidance.

Perfect for real estate professionals, homebuyer education programs, and seminar organizers, this template offers a well-structured and professional design. It includes customizable sections for seminar agendas, speaker profiles, presentation materials, and interactive activities, ensuring your seminar is informative and engaging.

Our Google Doc template provides a user-friendly editing experience, allowing you to effortlessly tailor the content, colors, and layout to align with your branding and seminar theme. Whether you're a seasoned real estate expert or a seminar coordinator, this template simplifies the creation of seminar materials that educate and inspire your audience effectively.

With this template, you can elevate your Home Buyers Seminar to a new level of professionalism, equipping potential homebuyers with valuable insights to navigate the real estate market confidently. Streamline your seminar preparation and create compelling materials with our Home Buyers Seminar template, setting the stage for a successful and enlightening event.