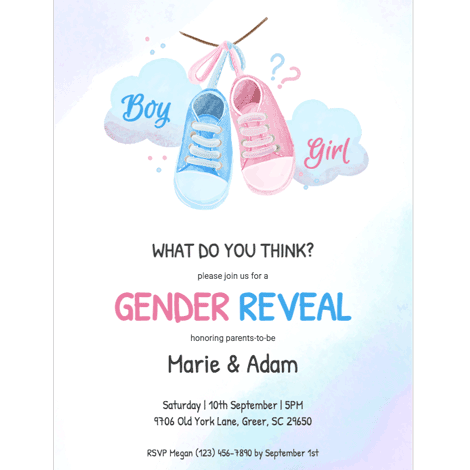 Introducing our Baby Gender Reveal Party Google Doc template—a delightful and heartwarming way to invite your loved ones to share in the excitement of revealing your baby's gender. This template is designed to spread joy and anticipation, making your gender reveal party an unforgettable celebration.

With its charming and visually appealing design, this template sets the perfect tone for your special event. The template features playful elements, vibrant colors, and a touch of magic, creating a whimsical invitation that builds suspense and excitement among your recipients.

Customization is a breeze with our Google Doc template. Simply input the date, time, and location of your gender reveal party, and add a personalized message to share your joy with family and friends. The responsive design ensures that your email looks fantastic on any device, allowing everyone to experience the joyous anticipation.

By utilizing our Baby Gender Reveal Party template, you can make your gender reveal party or baby shower a memorable and cherished occasion for everyone involved. The template empowers you to connect with your loved ones and invite them to be a part of this magical moment in your journey to parenthood.

Share the joy and anticipation with your nearest and dearest. Choose our Baby Gender Reveal Party Google Doc template to create an enchanting invitation that brings your loved ones together for a truly heartwarming celebration. Elevate your gender reveal party with this versatile and visually captivating template that celebrates love, family, and the gift of new life.