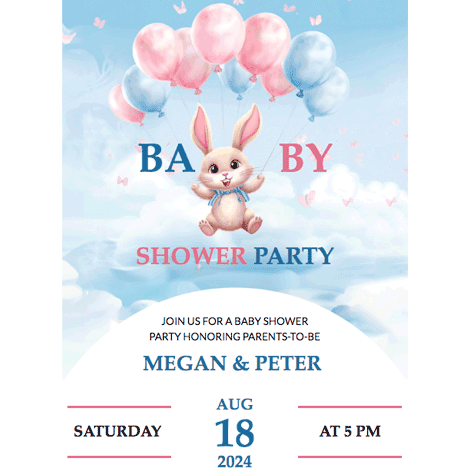 Introducing our Bunny Baby Shower Invite Google Doc template—a delightful and whimsical way to invite your loved ones to join in the celebration of the upcoming arrival of your little bundle of joy. This template brings a touch of cuteness and charm to your baby shower, setting the tone for a joyful and heartwarming gathering.

With its adorable bunny-themed design, this template adds a sprinkle of magic to your baby shower invitation. The sweet and playful graphics create a warm and inviting atmosphere, ensuring your guests feel excited and eager to join in the festivities.

Customization is a breeze with our Google Doc template. Simply input the date, time, and location of your baby shower, and add a personal message to express your happiness and anticipation. The responsive design ensures that your invite looks adorable on any device, allowing everyone to appreciate the joyous occasion.

By utilizing our Bunny Baby Shower Invite template, you can make your baby shower an unforgettable and cherished event for everyone involved. The template empowers you to connect with your loved ones and invite them to celebrate this precious milestone in your journey to parenthood.

Spread the joy and sweetness with your family and friends. Choose our Bunny Baby Shower Invite Google Doc template to create a delightful invitation that captures the hearts of your guests and adds an extra touch of magic to your special day. Elevate your baby shower with this charming and visually captivating template that celebrates the joy of new life.