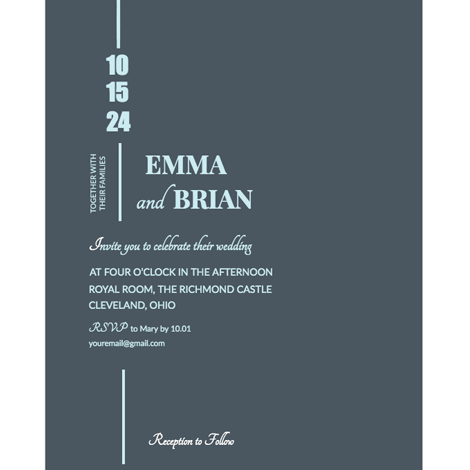 Introducing our sleek and sophisticated Google Doc template for a Minimalist Modern Wedding Invitation! This template is your perfect choice for creating elegant and minimalist wedding invitations that exude contemporary style.

Ideal for couples seeking a clean and timeless design, this template features a minimalist aesthetic with a focus on simplicity and modernity. With customizable sections, you can effortlessly input essential wedding details, such as the date, time, venue, RSVP information, and even add a personal touch with a favorite quote or message.

Our Google Doc template provides a user-friendly editing experience, allowing you to easily customize the text, colors, and layout to match your wedding theme and preferences. Whether you're planning an intimate gathering or a grand celebration, this template offers a versatile and customizable solution for your wedding invitation needs.

With this template, you can create wedding invitations that reflect your love story with a touch of contemporary elegance. Simplify the invitation process and design invitations that capture the essence of your special day with our Minimalist Modern Wedding Invitation template.