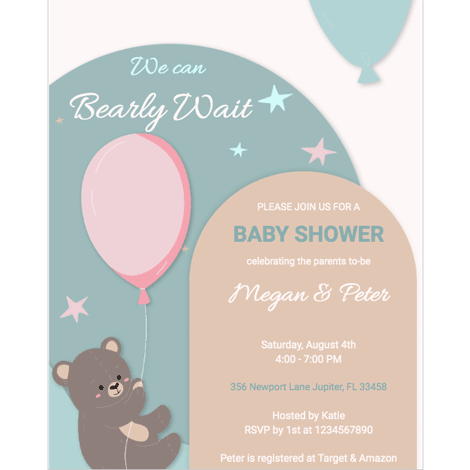 Introducing our adorable Google Doc template for a Teddy Bear Baby Shower Invite! This template is designed to infuse warmth and charm into your baby shower celebration, making it an unforgettable event.

Perfect for parents-to-be and party planners, this template features cute teddy bear graphics and a playful, inviting design. With customizable sections, you can effortlessly fill in the event details, such as the date, time, location, and RSVP information, to create a personalized and heartwarming baby shower invitation.

Our Google Doc template offers a user-friendly editing experience, allowing you to easily customize the text, colors, and layout to align with your theme and preferences. Whether you're planning a traditional baby shower or a gender reveal party, this template provides a delightful and customizable solution.

With this template, you can make your baby shower invitation process a breeze and create a keepsake that your guests will cherish. Set the stage for a heartwarming and memorable baby shower celebration with our Teddy Bear Baby Shower Invite template.