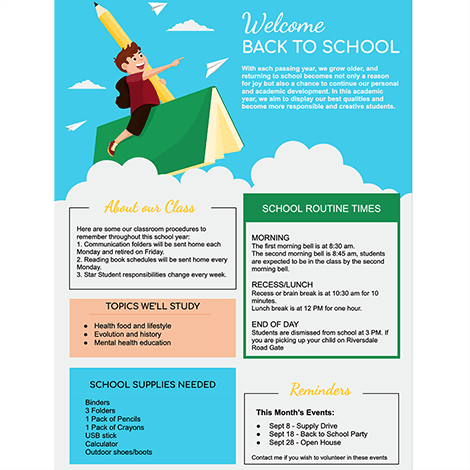 Embrace the excitement of the new academic year with our "Skyward Dreams" Google Doc template. Tailored for the back-to-school season, this newsletter template weaves together the magic of imagination and the thrill of learning. Central to its design is an enchanting depiction of a child rising into the clouds atop a book, symbolizing the limitless horizons that education can unveil.

The template is thoughtfully structured, offering educators dedicated spaces to introduce their classroom's unique ethos, provide a glimpse into the subjects for the year, list essential school supplies, and share the daily routine. There's also room to lay out the broader school calendar, ensuring parents and students stay informed about significant dates and events. An additional section caters to those all-important reminders that help keep the school community synchronized.

With its user-friendly interface, educators can seamlessly customize the template, adding a personal touch while preserving its elegant design. Whether viewed digitally or in print, the "Skyward Dreams" newsletter promises to be an engaging and informative companion for the start of the school year, painting a picture of the adventures ahead.