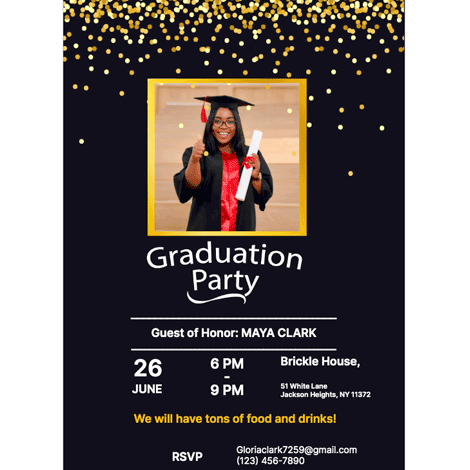 Introducing our Senior Photo Graduation Party Invite Google Doc template, the perfect solution for showcasing the achievements and capturing the essence of a graduate's journey. This template is designed to highlight the senior photos of the graduate, creating a personalized and heartfelt invitation for their special celebration.

With its user-friendly interface and customizable features, our Google Doc template allows you to effortlessly create invitations that incorporate the graduate's senior photo in a stunning and professional manner. The design provides ample space to prominently display the photo, allowing guests to connect with the graduate's unique personality and accomplishments.

The template offers a variety of font styles, colors, and formatting options, enabling you to add personalized text, details, and embellishments that truly reflect the graduate's style and theme. From the graduate's name to the venue, date, and time, you can easily customize every element, ensuring that your guests have all the important information presented in an elegant and visually appealing format.

Say goodbye to generic invitations and let our Senior Photo Graduation Party Invite Google Doc template save you time and effort. Whether you're organizing an intimate gathering or a grand event, this template will help you create invitations that honor the graduate's achievements and create a sense of excitement and anticipation among your guests.

Embrace the opportunity to celebrate the journey and accomplishments of a graduate with our Senior Photo Graduation Party Invite Google Doc template. Download it today and create invitations that showcase their unique personality, creating a heartfelt and memorable experience for all who attend.