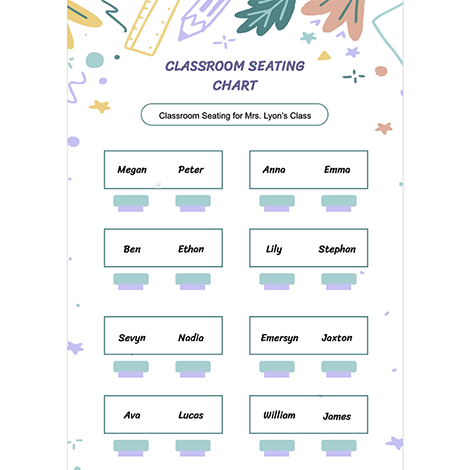 Organize your classroom with precision and ease using our Google Doc seating chart template. Designed with the educator's needs in mind, this template provides a visual representation of a classroom setting, complete with intuitively arranged desks that serve as placeholders for student names.

Each desk graphic is intricately detailed, reminiscent of real classroom desks, giving the chart a tangible feel. In just a few clicks, teachers can edit, move, and arrange these desks, tailoring the layout to fit their classroom's unique dimensions and design. To further simplify the process, each desk is paired with a customizable text box, enabling educators to seamlessly input and modify student names as needed.

Whether you're gearing up for a new school year, welcoming a new batch of students, or adjusting seating arrangements for optimal classroom dynamics, this template promises to be a handy companion. Its user-friendly design ensures that even those who aren't tech-savvy can effortlessly create their ideal classroom setup.

Stay organized, foster a conducive learning environment, and ensure every student has their designated spot with our customizable classroom seating chart. Your teaching toolkit just got a worthy addition!