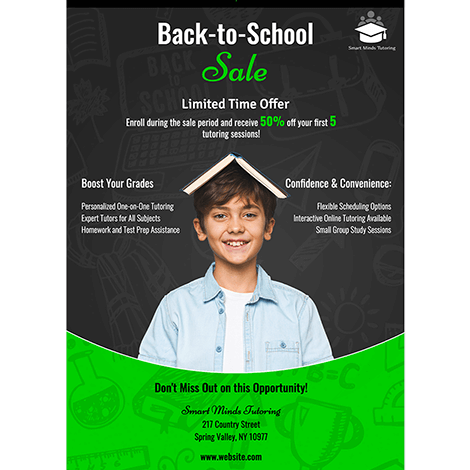 Dive into our newest and most delightful Google Doc template, tailor-made for announcing your back-to-school tutoring sale! Designed with a touch of humor and a dash of sophistication, this template speaks directly to educators and tutors.

Central to its charm is a jovial image of a young boy, perfectly balancing a book on his head, symbolizing the lightheartedness of summer's end and the familiar scramble of getting back to school routines. Beyond its engaging visuals, the template is a breeze to customize. Easily tweak the pre-written text to match your services, prices, and contact details, making it fit seamlessly into your promotional strategy.

Its versatile design ensures it's visually appealing on various platforms, whether you're sharing on social media, emailing to prospective clients, or printing it for community distribution. And for those who might not be tech-savvy, worry not! Our intuitive template design ensures a hassle-free customization experience.

So, as the new academic season beckons, ensure your tutoring services stand out. With its blend of comedy and clean design, this template is your ticket to being the talk of the schoolyard!