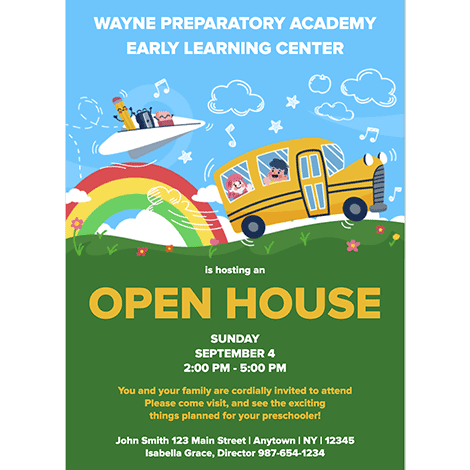 Step into a world where school buses radiate more than just transportation vibes, and rainbows are a promise of bright futures. Our Student Jam School Open House Google Doc template captures the joy, anticipation, and excitement of a school year's onset. It's not just a flyer; it's an invitation to a vibrant educational journey!

At the heart of this template is an animated school bus, infused with energy, surrounded by jubilant kids, with school supplies not just ready for lessons, but partaking in the party as well. Above them, a radiant rainbow arcs, symbolizing hope, diversity, and the myriad of opportunities that the school year brings.

Every element in this flyer, from the playful kids to the dancing pencils and notebooks, is designed to invite families into a world where education meets fun. The colors are bright yet comforting, ensuring that the message of a nurturing and enjoyable school environment is communicated at first glance.

The template allows for easy customization, ensuring that while the spirit of joy remains consistent, there's plenty of room for your school's unique details, schedules, and messages. Tailor the text to match your school's ethos and ensure every parent and student feels personally invited.

In essence, our Student Jam School Open House template is more than just an announcement; it's a celebration of learning, community, and the wonderful adventures that await in the coming academic year. Let the party begin!