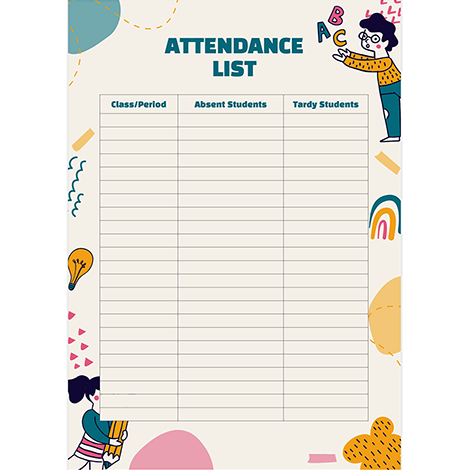 Step into an organized classroom experience with our vibrant Class Attendance Tracker template on Google Docs. A harmonious blend of function and flair, this template is the perfect companion for educators who value both accuracy and aesthetics.

At the heart of this template is a systematic layout designed to streamline the tracking process. With distinct sections for each class, as well as dedicated columns for absent and tardy students, the attendance management becomes an effortless task. Each entry allows for quick notations, ensuring that every student's attendance status is recorded with precision.

But this isn't just any mundane list. The design breathes life into the attendance tracking process through its colorful illustrations of diverse children, encapsulating the lively spirit of a bustling classroom. Complementing these illustrations are sporadic pops of colored shapes, adding an element of joy and visual appeal. These design touches aim to bring positivity to the routine task, reminding educators of the vibrant personalities behind each name.

Easy to update, delightful to view, and essential for classroom management, our Class Attendance Tracker template ensures you stay on top of attendance with style and efficiency. Turn the daily roll call into a vivid experience and ensure every student is accounted for, all while enjoying the playful artistry of our design.