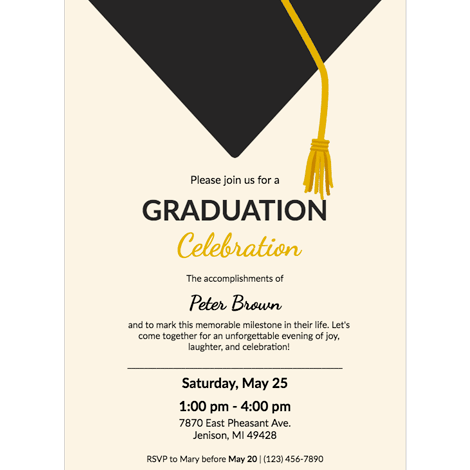 Announce your graduate's momentous achievement in style with our "Classic Tassel Graduation Party Invite" Google Docs template. Designed in a creative and elegant style, featuring a sophisticated color palette of beige and black, this template adds a touch of timeless class to your graduation celebration invitations. The central artwork, an exquisite illustration of a graduation hat, encapsulates the essence of this significant accomplishment.

It's all about making a memorable and elegant statement for your graduate's big day. This template provides a structured and visually appealing layout that allows you to showcase all the important details about the celebration – date, time, venue, and any special notes you'd like to convey to your guests. Whether you're a parent, friend, or graduate themselves, this template simplifies the process of creating an invitation that conveys the significance of this moment.

The graduation hat illustration serves as a powerful symbol of academic success and the culmination of hard work. It's a beautiful representation of your graduate's achievements. Whether you're celebrating a high school graduation, college commencement, or any other educational milestone, this template helps you announce it with sophistication and flair.