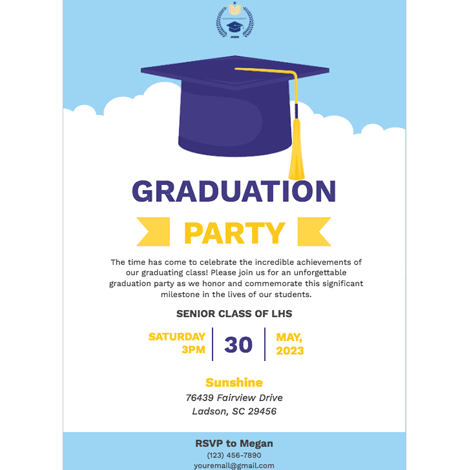 Introducing our Graduation Cap Sky High Invite Google Doc template, the perfect choice for soaring high and celebrating the achievements of a graduate. This template is designed to capture the spirit of accomplishment and the excitement of reaching new heights, making it an ideal option for a graduation party that embraces a sky-high theme.

With its user-friendly interface and customizable features, our Google Doc template allows you to effortlessly create personalized invitations that will impress your guests. The design showcases a graduation cap soaring against a backdrop of a magnificent sky, symbolizing the graduate's journey and the limitless possibilities that lie ahead.

The template offers a variety of font styles, colors, and formatting options, allowing you to customize the invitation to match your unique vision. You can easily add the graduate's name, venue details, date, and time, ensuring that your guests have all the important information presented in a visually captivating format.

Say goodbye to the hassle of starting from scratch and let our Graduation Cap Sky High Invite Google Doc template save you time and effort. Whether you're hosting an intimate gathering or a grand celebration, this template will help you set the tone for an extraordinary event that honors the graduate's accomplishments and inspires everyone to aim high.

Embrace the spirit of achievement and celebrate in style with our Graduation Cap Sky High Invite Google Doc template. Download it today and create invitations that will elevate your graduation party to new heights, leaving a lasting impression on all who attend.